How to choose the right size for your dog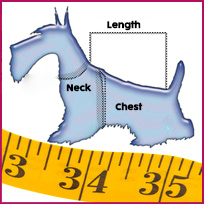 | | | | |
| --- | --- | --- | --- |
|   | Chest max | Lengt max | Neck max |
| Size XS | 31 cm | 21 cm | 20 cm |
| Size S | 36 cm | 23 cm | 23 cm |
| Size M | 42 cm | 28 cm | 27 cm |
| Size L | 48 cm | 33 cm | 31 cm |
| Size XL | 54 cm | 36 cm | 34 cm |
| Size XXL | 60 cm | 41 cm | 40 cm |
The most IMPORTANT MEASURE to refer is the chest: choosing an item with a chest too narrow, the dress will not close.
Length measurement is indicative: for some dogs, the t-shirt will reach 1 cm from the tail, another 2 or 3 cm depending on the dog's conformation. We recommend not to choose the size from the length of the dog.
The neck size is a reference that is especially useful for very tight garments (ex: round neck sweaters), while it is less important for sweatshirts or zipper coats.